Description
Intelligent Edge Computer with RK3568J
Geniatech XPI-3568 is an intelligent edge computer equipped with RK3568J quad-core 64-bit industrial-grade processor, built-in 1T NPU, HDMI display supports up to 4KP60 resolutions, XPI-3568 supports almost full-format H.264/H.265 decoder by 4K@60fps, also support H.264/H.265 encoder by 1080p@60fps, high-quality JPEG encoder/decoder. Up to 8GB of RAM, dual-band 2.4/5.0 GHz wireless LAN, Bluetooth 4.0, Gigabit Ethernet, USB 3.0 and USB 2.0, making it ideal for AI, machine learning, and multimedia applications.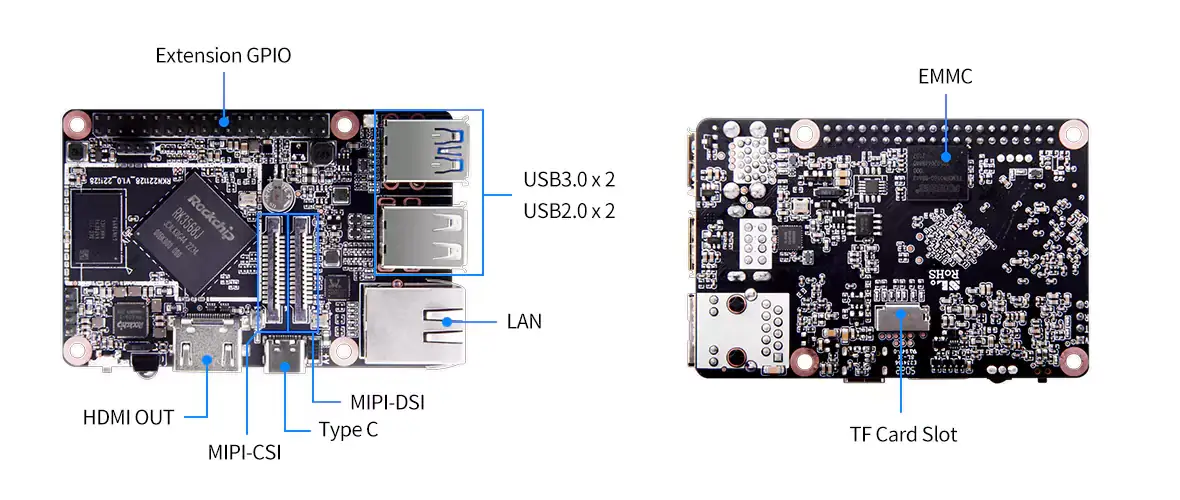 Compatibility and Extensibility
40 Pin header enables hardware re-use by maintaining compatible alternate pin functions like I2S, I2C, PWM, UART, and GPIO. Form-factor compatible with Raspberry Pi 4 for easy migration.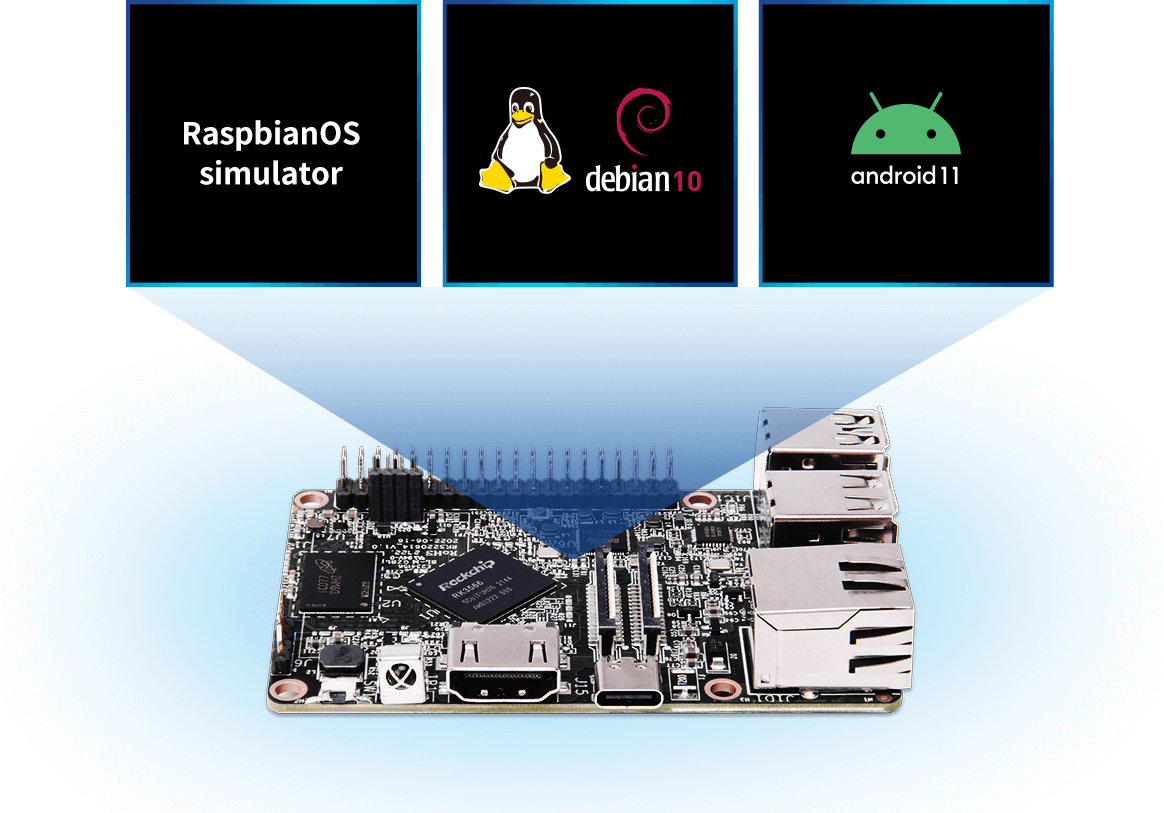 | | | | |
| --- | --- | --- | --- |
| Pin | Definition | Pin | Definition |
| 1 | VDDIO_3.3V | 2 | VCC5V0_SYS |
| 3 | I2C5_SDA_M0/GPIO3_B3_D | 4 | VCC5V0_SYS |
| 5 | I2C5_SCL_M0/GPIO3_B4_D | 6 | GND |
| 7 | I2S1_MCLK_M1/GPIO3_C6_D | 8 | UART1_TX_M1/GPIO3_D6_D |
| 9 | GND | 10 | UART1_RX_M1/GPIO3_D7_D |
| 11 | SPI3 _ CLK _ M0/GPIO4_B3_D | 12 | I2S1 _ SCLK _ TX _ M1/GPIO3_C7_D |
| 13 | SPI3 _ MOSI _ M0/GPIO4_B2_D | 14 | GND |
| 15 | SPI3 _ MISO _ M0/GPIO4_B0_D | 16 | UART1_CTSn_M1/GPIO4_C1_D |
| 17 | VDDIO_3.3V | 18 | UART1_RTSn_M1/GPIO4_B6_D |
| 19 | SPI2_MOSI_M1/GPIO2_D6_D | 20 | GND |
| 21 | SPI2_MISO_M1/GPIO2_D7_D | 22 | GPIO3_C4_PWM |
| 23 | SPI2_CLK_M1/GPIO3_A0_D | 24 | SPI2_CS0 _M1/GPIO2_D5_D |
| 25 | GND | 26 | SPI2_CS1_M1/GPIO2_D4_D |
| 27 | I2C2_SDA_M1/GPIO4_B4_D | 28 | I2C2_SCL_M1/GPIO4_B5_D |
| 29 | SPI3_CS0_M0/GPIO4_A6_D | 30 | GND |
| 31 | SPI3_CS1_M0/GPIO4_A7_D | 32 | UART4_TX_M1_PWM/GPIO3_B2_D |
| 33 | UART4_RX_M1_PWM/GPIO3_B1_D | 34 | GND |
| 35 | I2S1_LRCK_TX_M1/GPIO3_D0_D | 36 | UART3_RX_M1/GPIO3_C0_D |
| 37 | UART3_TX_M1/GPIO3_B7_D | 38 | I2S1_SDI0_M1/GPIO3_D2_D |
| 39 | GND | 40 | I2S1_SDO0_M1/GPIO3_D1_D |
Chipset
Rockchip RK3568J
Software
Debian10/ Android11 / Raspbian OS
Processor
CPU
Quad-core Cortex-A55 up to 1.8GHz
GPU
Mali-G52-2EE
DDR
2G(1G/4G/8G Optional)
EMMC FLASH
16GB(8G/32G/64GB/128GB Optional)
Network
Ethernet
RJ45, 1000M
WiFi
2.4G/5G Dual Band WiFi
Bluetooth
BT4.0
Interface
TF Card Slot
TF card *1(max. 64GB)
HDMI
HDMI out*1
USB Host
USB HOST 3.0 * 1,USB Host 2.0*2,USB OTG 2.0*1
DC IN
Power IN*1 (TYPE-C, 5V / 3A)
Extension GPIO
GPIO*40
Display
MIPI-DSI, MIPI-CSI, IR
Codec
Video Decoder
4096x2304@60fps video decode (H.265,H.264,VP9/VP8,VC-1, MPEG-1/2/4)
Video Encoder
• H.264/AVC BP/MP/HP@level4.2,up to 1920x1080@60fps
• H.265/HEVC MP@level4.1, up to 1920x1080@100fps (4096x4096@10fps with TILE)
• Support YUV/RGB video source with rotation and mirror
JPEG Decoder
• Decoder size is from 48x48 to 65536x65536
• Support YUV400/YUV411/YUV420/YUV422/YUV440/YUV444
• Support 1920x1080@120fps
• Support MJPEG
JPEG Encoder
• Baseline Non-progressive
• up to 8192x8192
• up to 90 million pixels per second
Weight
45 g
Dimensions
85 mm * 56 mm * 1.6 mm
Operating Temp
0°C to 60°C
Accessory
Power Adapter, WIFI Module